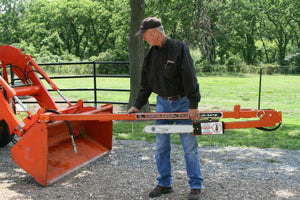 User-Friendly Saws For All Landowners
So You Can Trim Safely & Have Fun Doing It
Who Are LimbSaws For?
Our saws are designed for anyone who owns land, whether that's one acre or thousands. They're great for:
• People who want to trim their own trees

• Families who want to share equipment

• Folks who want to pitch in to help their neighbors

• Those who enjoy taking their tractor out for projects

• Anyone who wants to remove branches obstructing their view
Innovative Tool
If you're tired of getting into a tractor bucket to trim branches and want a better way, this tool is for you.
Independent Use
If you want to be able to tackle projects on your land independently and safely, this tool is for you.
Made in America
If supporting American-owned businesses and locally made goods matters to you, then this tool is for you.